Who is Saphe?
Saphe is the technology company behind the most popular traffic alarms in Denmark. To put it into perspective: 1 out of 4 Danish car owners have a Saphe traffic alarm on the windshield. Saphe has since 2015 been launching a range of traffic alarms – one more impressive than the other – with new functions and possibilities for Danish car drivers.
A business partner with know-how about Danish culture
Saphe was in need of expertise regarding the production and development of their newest products, Saphe Drive Pro and Saphe Drive Mini. They wanted a contract manufacturer with know-how about Danish and European culture, which made Cre8tek an attractive business partner:
"(..) Pei – who is based in China and is co-owner – has worked in northern Jutland (a region in Denmark), which results in him having a great understanding of Danish culture. Then there is Poul (Danish CEO) who is based domestically. It is a major plus."

| Freddy, CEO and Founder of Saphe
Cre8tek is based in both Denmark and China. Cre8tek has a factory in China, a local support team in Denmark and a circle of owners that are based within both countries. This allows the customer to communicate directly with the design and development team in China. Furthermore, the customers can at the same time receive support from the team in Hjørring.
Cre8tek became Saphe´s new "constructor"
Cre8tek´s competencies within optimization of production, and construction of the products, have been a benefit for Saphe:
"Cre8tek is excellent in the design phase. Especially when it comes to how we make the traffic alarms function for the consumer and how we make it easier to assemble the traffic alarms in production. You could think of our designers as the architects who design the house, where Cre8tek is the constructor who finishes it based on the drawings."

| Freddy, CEO and Founder of Saphe
It is not the technical competencies alone that makes Cre8tek stand out. Freddy Sørensen also emphasizes how pleased he is with the communication within the collaboration. He highlights their weekly video-review meetings, which he sees as a great benefit within the communicative aspect of the collaboration.
The beginning of a long partnership
Saphe is not the only one to express joy for the collaboration. If you ask Cre8tek´s Danish CEO, Poul Dørup Olesen, Cre8tek is more than ready for further development of the collaboration:
Our collaboration with Saphe is great. It gives us a sense of pride that we, together with Saphe, have been involved in creating IoT-products, which will be a benefit to many people (..) We think of Saphe as a long-term-partner. Their innovative approach – combined with our substantial experience within development, and production, of reliable electronic products – is a good foundation for the possibility of developing the collaboration (..)

| Poul Dørup Olesen, CEO and Founder of Cre8tek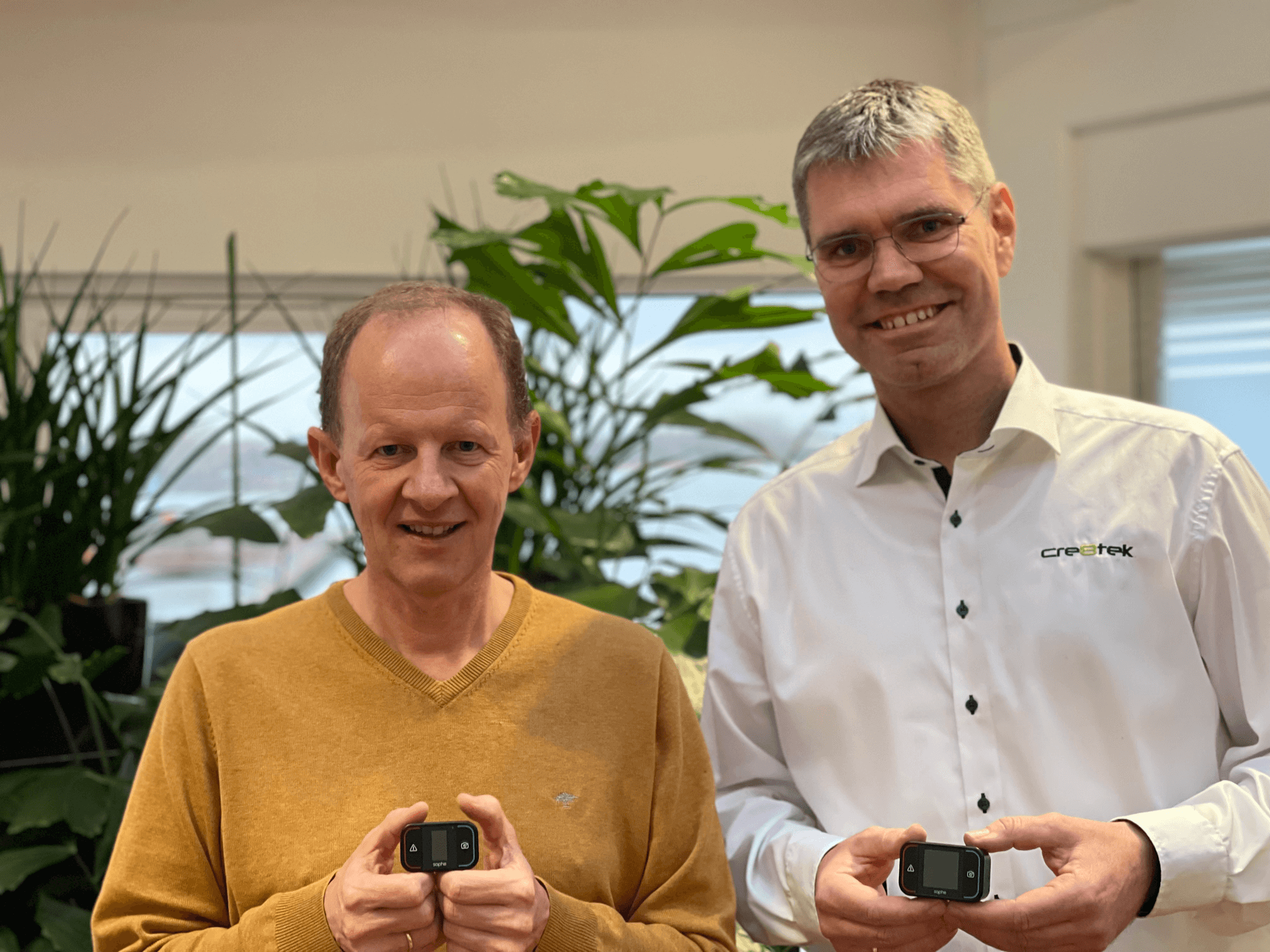 From the left: Freddy Sørensen, CEO and Founder of Saphe, followed by the CEO of Cre8tek in Denmark, Poul Dørup Olesen.
Today, Saphe has sold 1 million traffic alarms and is now one step closer to their goal of being the preferred company within traffic safety and mobility in northern Europe.
An overview of Cre8tek´s contribution
Development of a mechanical concept and mechanical design.
Joint development with Saphe engineers for electronics design and components selection.
Alternative components selection and search during periods with general shortage of electronic components.
Design integration of electronics and mechanics in close cooperation with Saphe engineers.
CNC prototypes for verification of design, look & feel and function.
Test and certification.
Product qualification and production qualification.
Set-up of a complete mass production.
Development and manufacturing of injection molding tools.
Manufacturing of plastic components.
Supply chain management for production.
Mass-production (Box-Build).
A great environment for collaboration and a close coordination with Saphe's development team.